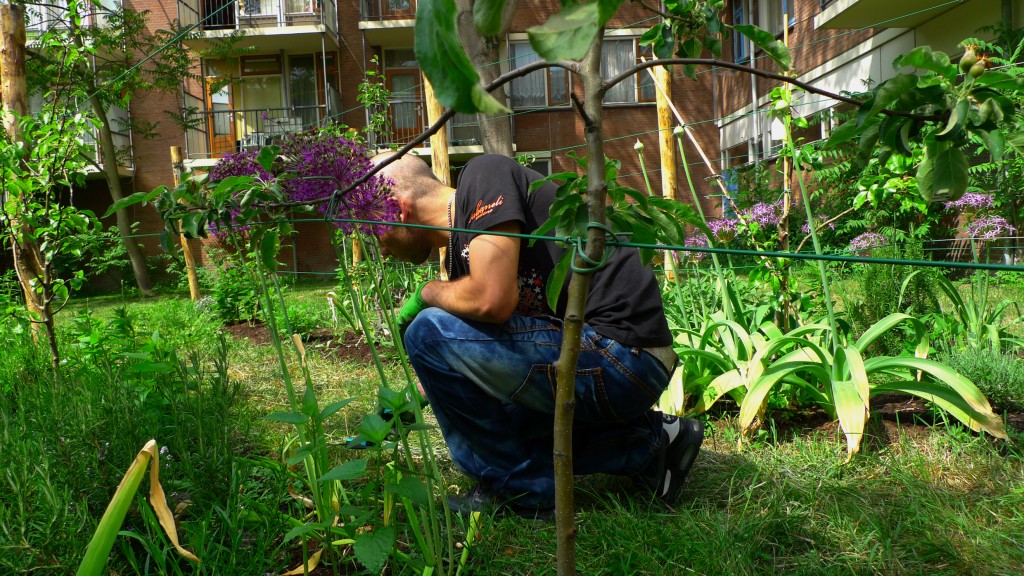 Wednesday June 22nd: URBANIAHOEVE and the Foodscape Schilderswijk team celebrate their first year of public space urban agriculture in the Hague's Schilderswijk. Nearly 50 fruit trees, hundreds of berry bushes, herbs rhubarb, artichokes, cover crops and bee-attractors are now beginning to thrive in formerly under-programmed monocultures of grass.
Foodscape Schilderswijk is a platform for urban agriculture. The themes central to this project are public space, social cohesion, collective edible landscape architecture, and neighbours greening neighbourhoods.
Wednesday June 22nd from 13-16:00 hours we will celebrate the first year of urban agriculture, by enjoying a walking tour to the Foodscape Schilderswijk project locations led by Jan-Willem van der Schans (WUR/LEI). Local participants will talk about their experiences in laying down the first phase of food-system infrastructure for their neighbourhood. Orchards! 28 different cultivars of fruit tree! Espalier! Herbs, and berries, and if we're lucky, the echinacea will have bloomed just for us today.
Where: Westenbergstraat (Westenberg Hof), Den Haag Schilderswijk
When: June 22,  13-16 hours
All are welcome.
The tour will begin and end in the Westenberg Hof where we will enjoy some of the harvest and plant the 50th fruit tree.
Foodscape Schilderswijk is developed by URBANIAHOEVE, Social Design Lab for Urban Agriculture, in close collaboration with Stroom Den Haag, center for art and architecture.
Foodscape Schilderswijk is generously supported by Stichting DOEN, Fonds BKVB, Ministerie van EL&I, Fonds 1818, Fonds Burgerschap, Dept. of Nature and Environmental Education (NME Den Haag), Haag Wonen and Oranje Fonds.