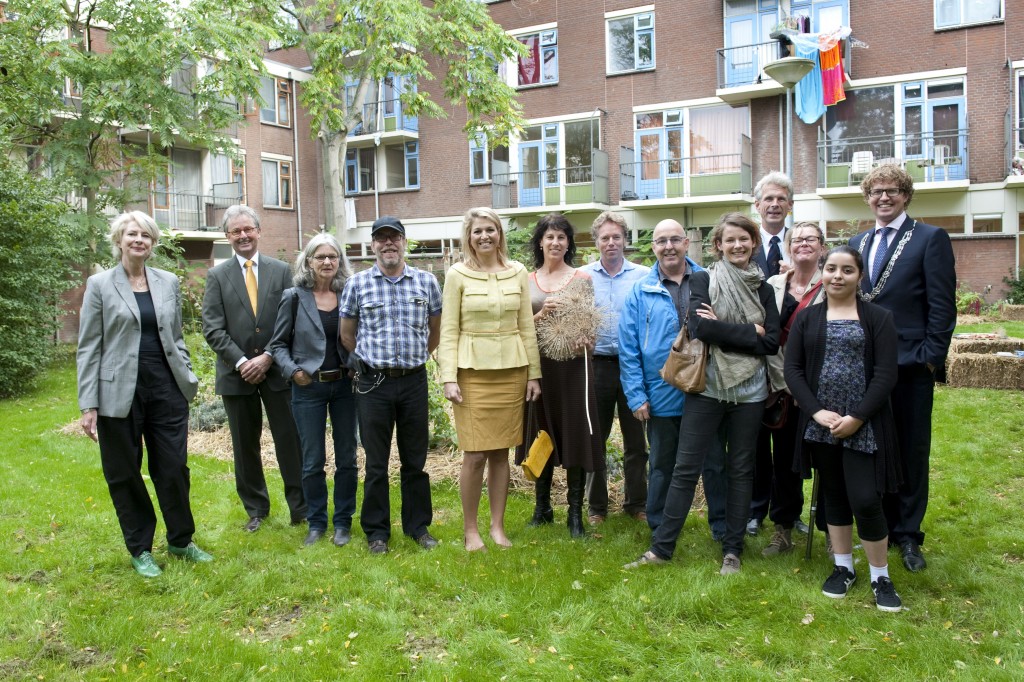 Photo Jeannette Schols / Oranje Fonds
In her role as patron of the
Oranje Fonds,
Her Royal Highness Princess Máxima visited the URBANIAHOEVE (Social Design Lab for Urban Agriculture) project
Foodscape Schilderswijk
on Tuesday, October 4th. In one of
1
the project's community orchards, Princess Maxima spoke with URBANIAHOEVE founder Debra Solomon,
Foodscape Schilderswijk
project coordinator Mariken Straat, the board and project partner
Stroom Den Haag.
The Oranje Fonds is a generous supporter
Foodscape Schilderswijk
, with whom it shares the goals of improving social cohesion, community agency, and local participation.
Urban Agriculture and social cohesion
Various topics were discussed during the royal visit, including the meaning, method, and vision of Foodscape Schilderswijk, but also the impact of the project on urban issues such as social cohesion, community, appropriation of public space and food as a practical tool for bringing local residents together. After an initial meeting at community centre De Mussen, the group walked to the Westenberg Hof (one of four Foodscape Schilderswijk project locations) where a number of interested local residents and partners such as the municipality's Greens Department, were ready to meet Princess Máxima and to show her around the landscaped beds. This Foodscape Schilderswijk location is in one of the courtyards of Complex 217, one of the Schilderswijk's many enclosed public spaces. Thanks to collaboration with local residents and agencies, what was once a neglected monoculture of grass, a dumping ground for trash, and an under-used piece of public space, the courtyard now boasts an orchard with 14 different cultivars of apple, pear and cherry trees as well as berries, herbs such as rosemary and sage, rhubarb, artichokes, and other edible flowers. The fruit beds, often visually resplendent with the blooms of the ornamental onions are part of an ever-growing continuous edible landscape planted with project participants in the borough's public space and  which project initiator Solomon refers to as a continuous productive urban foodscape.

Foodscape Schilderswijk
Because urban agriculture is more than individually owned vegetable gardens,
Foodscape Schilderswijk
roots into neighbourhood infrastructure both green and social, to generate edible forms of citizen-run, permaculture-based landscaping. Orginally commissioned by
Stroom Den Haag
within their programme
Foodprint. Food for the city,
URBANIAHOEVE is developing a real edible neighbourhood. Through community activities and educational cuuricula, and together with a broad array of local partners, we are planting an edible landscape in the Hague's Schilderswijk, a spatially contiguous, food-producing biotope. Project participants have planted to date more than 50 fruit trees, hundreds of perennial herbs, berry bushes, artichokes, rhubarb, and nectar-rich flowers in formerly under-programmed public space.
Foodscape Schilderswijk is devloped by URBANIAHOEVE, Social Design Lab for Urban Agriculture, in close collaboration with Stroom Den Haag, center for art and architecture.