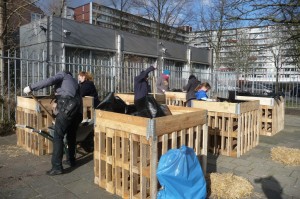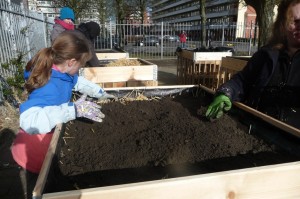 March 14, 2013 – Lucas Community, Notweg 32, Amsterdam. Last Thursday URBANIAHOEVE, members of the Lucas Community and neighbours broke ground on Foodscape Wildeman garden and edible landscape at the former Lucas School. The group, who were involved in the co-design of the garden busted out 14 planter frames.
In the coming weeks, this core team will transform the concrete and sand of the former schoolyard into a beautiful garden. Thanks to the robust approach of the team we finished the initial setup in just one day. The seed beds will function as a nursery while the installation and building of  the site, designed in collaboration with the Lucas Community takes shape. 
This garden is only a small part of Foodscape Wildeman. Later this year more project locations will be added to form the countours of the edible ecological framework that will fill the Wildeman neighborhood with edible plants, nectar-routing and orchards – and as well public ovens built as part of the the DIY Mmmmuseum of Oven Typologies .
Still reeling from the excitement of the first day in the future garden, and still amazed by the speed with which we finished, Foodscape Wildeman promises to redefine how we see urban agriculture in Amsterdam.
Foodscape Wildeman is a project of URBANIAHOEVE / Social Design Lab for Urban Agriculture made in close collaboration with the Beach, the Lucas Community and Amsterdams Steunpunt Wonen.
Foodscape Wildeman is generously supported by the DOEN Foundation, Amsterdam Foundation for the Arts, the Prince Bernhard Foundation, the VSB Foundation, Amsterdam Dept of Spatial Planning, and the borough of Amsterdam West.