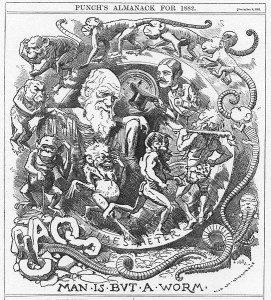 In 1881  Charles Darwin published what would be his final work, a treatise on the formation of topsoil called, The Formation of Vegetable Mould through the Action of Worms with Observations on their Habits.  A review of this seminal work in the 1882 Punch Almanac was accompanied by a satirical (Linley Sambourne) cartoon depicting an evolutional spiral starting with worms evolving into monkeys with prehensile worm tails, subsequently evolving into orang utan and 'men' in 'various states of evolution', ending up as Darwin. The plate clearly illustrates that society was not yet ready for his ideas. Man is but a worm!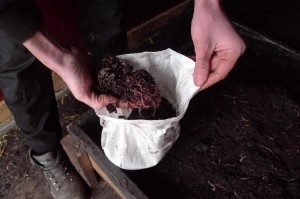 In Dutch cities like Amsterdam there really is  'no terroir there', and urban soils are rarely more than sandy building material. Practitioners of urban agriculture like Urbaniahoeve are correct to focus their practice on increasing soil fertility. Urbaniahoeve's urban agriculture project sites in Amsterdam North, Amsterdam New West, Den Haag and Maastricht all suffer from poor urban soils, in our opinion a greater danger than any residual contamination. We have started a long term collaboration with the Lumbricidae Family to create in situ nutrient rich humus, throbbing with soil life.
URBANIAHOEVE kicks off WORM WEEK with a workshop in her Amsterdam North Demo Garden location, given by worm-expert and permaculturist Librani Selby. Librani has been practicing permaculture for more than 10 years, most recently on her own farm in Northern Germany, which she, her partner and son are turning into a self-sufficient small-holding and food forest.
see also: